ePoint Medway
Warehouse space perfected
ePoint Medway comprises in excess of 378,000 sq ft of dedicated eCommerce, value-added warehouse and fulfilment space, with office accommodation, in a landscaped commercial park of 115 acres.
State-of-the-art warehouse solution 
Using state-of-the-art materials, building practices and handling systems, ePoint delivers the pinnacle of user specification, in a stimulating and secure work environment, with 24 hour security, site-wide CCTV and controlled access.
ePoint will provide complete omnichannel customer solutions with specific value added services for retail, wholesale and e-commerce.
Noatum Logistics hold the highest AEO accreditation, which means that ePOINT operates as a Customs bonded facility, providing simplified access to warehousing and processing regimes.
Leading-edge , automation and materials handling are managed seamlessly by warehouse control systems, designed to cover big spaces over several floors that are complex and interconnected.
From a standard schedule of accommodation ePOINT is endlessly adaptable to provide the perfect storage and fulfilment solution, whatever your requirement.
Intensive density storage will be achieved with a high level/narrow aisle configuration, together with specialised product handling areas (i.e garment racking) spread across multiple mezzanine floors.
Space utilisation will be further enhanced, with the introduction of Autostores, Pick Towers, robotic picking and other customised solutions as required.

Schedule of accomodation
Mezzanine Undercroft
422
4,500
2 Storey Mezzanine Office
930
10,000
3F Storage Area
353
3,800
GF Operations Office
102
1,100
Current ePOINT configuration
Mezzanine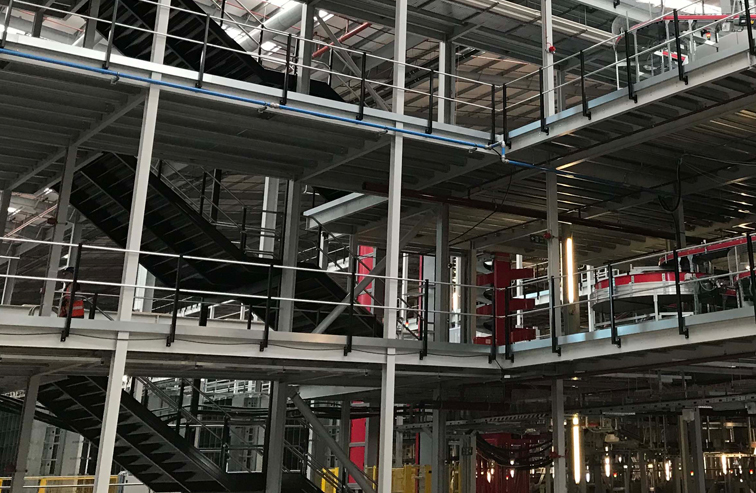 Mezzanine
Our mezzanine solution was selected for flexibility, strength and ease of installation. Its lightweight design and fast installation means that we can reconfigure areas, as need directs.
Current configuration includes 4 floors @ 55,000 sq. ft.
Partner – MiTek
Handling
Handling
Roller and monorail, conveyor systems accelerate the internal movement of bulk and single product and have been tailored to our customers' needs To ensure we can handle any peak volumes without any issues we have invested in put wall and pick to light technology.
Partner – BS Handling Systems
Materials Handling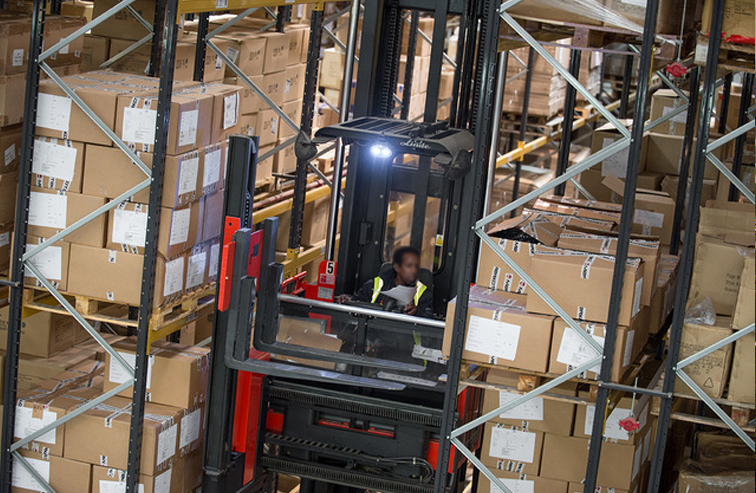 Materials Handling
Safe and efficient narrow aisle working depends entirely on the right equipment. The ability to travel and lift at the same time, is standard in many facilities, but we require forklifts that can achieve high-speed lifting and travel, even at maximum lift heights. The storage system has been developed with flexibility for both Pallet and Carton picking.
Partner- Linde
Warehouse Management & Control system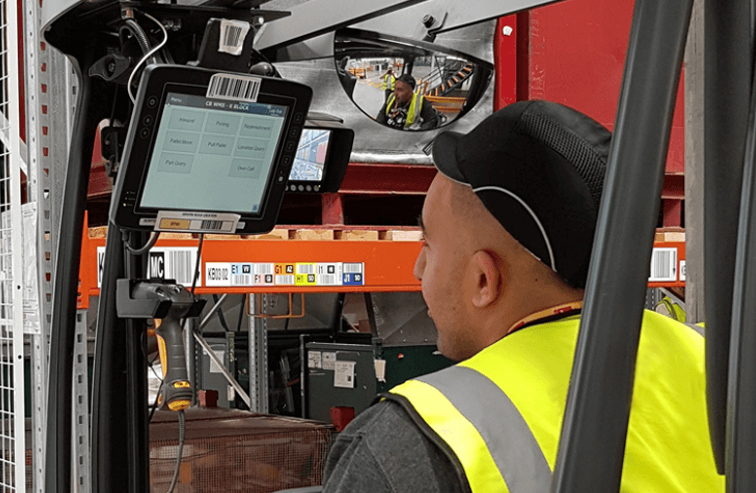 Warehouse Management & Control system
The conception, creation and implementation of supply chain and inventory management technology is a critical successful factory for Noatum Logistics and its customers. At ePOINT Medway we recognised the need for an intralogistics and ecommerce application to control data flow between our business systems and the materials handling and automation equipment.
Technology is changing fast and Noatum Logistics required a set-up that was future proofed to allow us to introduce further technology like robotics as technology advances
Partner – IDC
Features of accomodation
Telescopic conveyor booms
Unloading conveyors
Roll in GOH Monorail
Goods Lifts
Garment monorail racking
Robotic picking Mezzanine
Bulk Zonal picking
Put away to light station
Pick to light pack station
e-commerce gift shop packing
14 Dock loading doors
4 Level access doors
37 HGV parking spaces
161 Car parking spaces
Warehouse management system
Automatic dynamic scheduling within WMS to manage changing priorities for e-commerce next day cut off
Customer Portal
Integration with all major parcel courier systems for Standard, next day, international deliveries.